American football games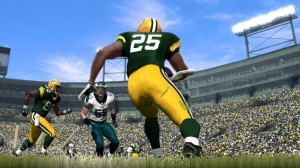 From the PC to Atari and Nintendo ES to Play station 3 and Xbox 360 . video games have been around for many years and i think its safe to say that American football games was a big part of it. even though this site is mostly about american football films we think covering all fields of the game is important.it started with 2D games and now its so real you can actually play the game yourself with the Xbox kinect or the Sony move. American football games take a big share of the video games market and we are about to break down the best American football games in the world! for your pleasure we will also give out websites links that offer free on line NFL games to play right from your browser.
For the links to websites that offer free online NFL games scroll all the way down to the end of this post
This list of American football games has no particular order .
1 : 10 yard fight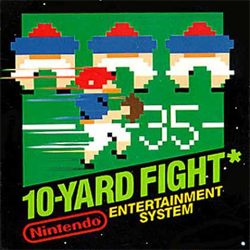 Developer : Irem
year : 1983
One of the very first American football games ever developed and of course in 2D. it was released in 1983 and its safe to say that it is the very first slightly realistic game in that genre. the game is played in a top down view with vertical scrolling.
2 : 4th & inches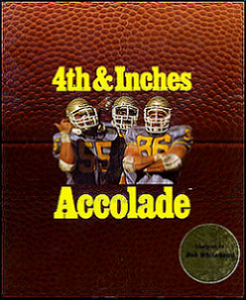 Developer : Accolade
year : 1987
4th & inches is an American football games classic. released for the PC this game has some improvements other the others like the ability to choose from a number of plays instead of just playing one play at the time. this was also possible in defence giving the game much more strategy and depth.
[the_ad id="2097″]
3 : Bill Walsh College Football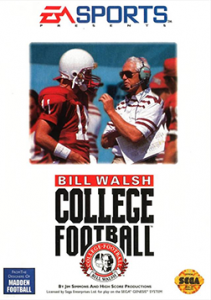 Developer : EA sports
year : 1993
this game features 24 football teams and some historical teams as well. you can play a regular season mode , a playoff mode with 16 teams and another playoff mode with all the teams in the game including the historical ones.
4 : NFL 97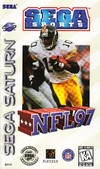 Developer : Sega
year : 1996
NFL 97 is a follow up American football game from Sega " Joe Montana series. this game sold well in comparison with other American football games at that time but it did get a lot of poor reviews due to the games poor skill level and the fact that it was not in the same level of the generation video games.
5 : Madden NFL series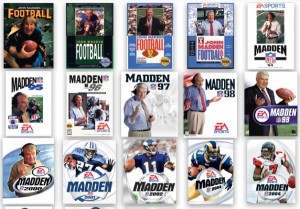 Developer : EA Sports
year : 1988 – until now
This is the most recognisable game in the American football games genre. EA sports started this game way back in 1988 and it was no match for the other games at that time it was only in the 1993 game that EA sports have bought the rights from the NFL to use the real teams names and logos and then the game toke off and left everyone behind.this series of games is the second best in point of sales only after the FIFA series from EA Sports as well.
6 : NFL Tour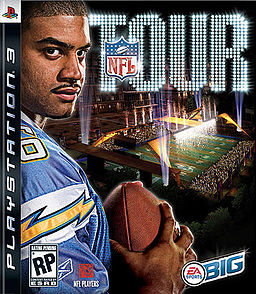 Developer : EA Sports – BIG
year : 2008
NFL tour is a new game that the BIG division of EA Sports developed similar to the NBA street and NFL Street games that was released. the player to appear on the cover of this game was chosen by a fan vote and Shawne Merriman won the vote. the game suffered bad reviews that says it lacks depth and doesn't take advantage of the game consoles full features.
7 : Tecmo Bowl – Kickoff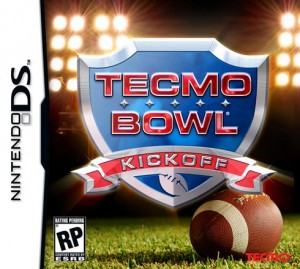 Developer : Tecmo
year : 2008
This is a surprising game in the American football games genre because it was released in 2008 which is not so long ago and you would expect a better game. the graphics and entire game skill is obsolete and just feels old.of course the other major downgrade is the fact that the teams names have been changed. why should someone buy or even play this game is a puzzle.
8 : ESPN NFL 2K5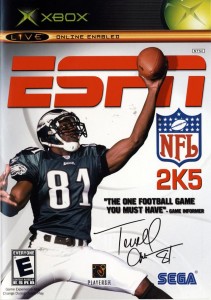 Developer : Visual Concepts
year : 2004
The last NFL 2K game to be released. EA sports was shocked by the sales of this game so they made the NFL an offer they cant refuse and bought an exclusive license to be the only company that can use NFL logos and team names in a video game. while many thought this was illegal the NFL signed the deal and that put the last nail in the NFL 2K coffin.
9 : NFL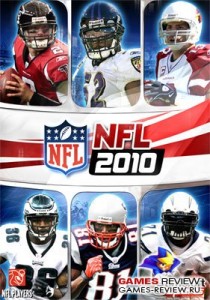 Developer : Gameloft
year : 2009
While we know EA sports have the exclusive deal with the NFL Gameloft developers has managed to sign deals with the players association that would give them the right to use some of the players names in the game. that was a nice touch but the critics killed this game due to lack of artificial intelligence.
10 : Fantasy Football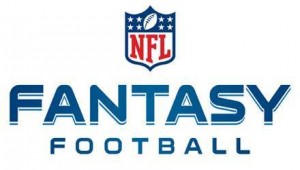 Developer : NFL
year : 1962
Way back in 1962 the Fantasy football league game was created . now days it is one of the most played games in the American football games genre. the game is played by each person forms an imaginary team with real players from around the league. then each team gathers points depending on the player performance in that week. NFL reports that since the Fantasy football game gain popularity in the 2000's when the Internet exploded to the world it is now a major part of the real league and you can see actual players advertising them self in order to be picked by users.
 This was the American football games list  – hope you enjoyed it
If you don't own a PS2\3 or xbox or any other game console. i give you some useful links to great sites that offer NFL games for free to play right on your browser :
Cute little site with some funny and enjoyable football games . you can rate the games. watch how many played and more.
2 : Miniclip.com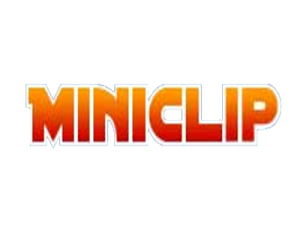 Maybe the biggest free games site on the planet. you can find thousands of games here…and of course some great American football games also.
3 : Agame.com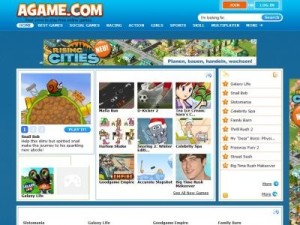 Another cool site for online free games. you can view comments other users left for each game. you can save your best games in your fav folder and much more. try it out and find some good NFL games.
Now I'm sure there are more sites out there but i gave you only the best of the best. Enjoy