Any given Sunday – American football films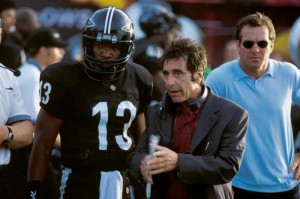 Life is a contact sport
When talking about any given sunday you should start by saying one simple thing
Any given Sunday is probably  one of the  best football movies ever made about American football that is a fact
Now i can start telling what makes it so good. lets start with its amazing cast with stars like AL Pacino . the amazing Cameron Diaz, Dennis quaid, Jamie foxx and many others that make this film the best.
other then that you have the director Oliver stone that is known for making beautiful movies and everything he touches turns to gold.i could end my post right now and you will still be convinced to watch this movie only because of these 2 facts, but lets continue
it has everything an American football films need to succeed. lets get in to it right now
any given sunday success breakdown
so it begins with a horrible injury of the QB that leads  Willi beamen to get his chance after riding the bench for years.he is a third stringer and was not likely that he would ever got a chance to play without the QB injury. he takes this opportunity with both hands and stunned everyone in the stadium. after playing a really good couple of games the staff decides this is their main man. but success doesn't come easy and its not without its cost. the now opening QB discovers that there is a lot to being the first player on the team and a lot of it has nothing to do with the game played on the field.
these events impact the head coach of the team as well. and he is starting to realise that at his older age he maybe old fashioned and out of date with whats going on..so now he has to adopt to the new game or find someone who will.This is all orchestrated by the young owner of the team. the beautiful Christina Pagniacci( Cameron diaz ) who inherited the ownership of the team from her father and now she is starting to realise what this position really means.
Trust me . all this mess turns out to be a magnificent movie that anyone would enjoy. especially football fans. i think this is the movie that made Jamie foxx the star he is today and i think he played one of his best performers of his life in this movie.
I can say allot about American football films  but as i said at the beginning of this post. this is the best movie about American football and i think it should rank number 1 on the American football films list of any one.
If you have any thoughts or anything at all to add to this post or anything about American football films. please leave a comment
Here is a trailer of any given Sunday :