Frank Gore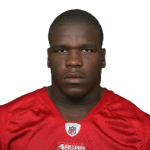 Frank Gore is considered one of the strongest running backs in the national football league. in his seven years career he has been selected to three pro bowls and also had four seasons with a 1000 yards rushing , despite all those fantastic stats Frank Gore has never had a winning season and reach the playoffs, in the 2011 season Frank Gore finally got to the NFC championship game with new head coach Jim Harbaugh only to loose in a final seconds turnover to the opposite team.
Born in Miami Florida Frank Gore went to Coral Gables high school and was a rising star as a running back.during his time at that school there are two games that were exceptionally excellent . one against the Miami northwest high school when he had a career high 293 yards and two touchdowns and the game after that he broke his own record with 319 yards and an amazing six touchdown runs. this was unheard off during that time .in his senior year Frank Gore continued to brake records including the rushing yards and touchdowns with 2953 yards and 34 touchdowns in a single season. it was clear that Frank Gore had a bright future ahead of him as a running back.during his college career Frank Gore was not slowing down. in his freshman year he run for 575 yards with five touchdowns that was the third best season record in the Miami university history. in his second year gore suffered a crucial injury to his knee and spent the entire year recovering from that injury. in 2003 Frank Gore got back to the game and run for 1000 total yards that season. in total during his college time Gore rushed 380 times  for 1975 yards and had a 17 touchdowns with the hurricanes.with those great stats it was sure that he would be picked in the upcoming 2005 draft.the San Fransisco 49ers picked him in the third round and he plays for the same team ever since. in all his seven years with the 49ers Frank Gore has been a dominate power on the team and a lot of the seasons he passed the 1000 yards mark rushing making him one of the top running backs in the league.the 2011 season went really well for the team as critics say this year they could go all the way to the super bowl. what will be the end result we will have to wait and see but it is clear that Frank Gore is an amazing part of all the action.
interesting facts about Frank Gore:
1 : Frank Gore was selected three times to the pro bowl and it seems that he would be selected many times in the future if he can keep his game abilities like it is right now.
2 : Frank Gore full name is Franklin John Michael Gore and he was born in 14 of may 1983.
3 : while being a great football player gore also improved his academic career.
4: after his freshmen year injury gore decided to change his number to 3 instead of 23 . his cousin suggested it and the following year gore run for nearly 1000 yards.
5 : gore mother was battling kidney cancer while he was in college there for he decided to go to the university of Miami to stay close to home so he can be with her.
over the years gore has proven him self on and off the field with great ability.and it seems all of his hard work is coming around as the 49ers are looking better and better each year and will probably will become a major player for the championship in the next couple of years.
 here is a clip with some of Frank Gore greatest moments :