Steven Jackson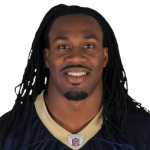 Steven Jackson is a beast. one of the most powerful running backs in the national football league Steven Jackson is feared by all teams. after many years with the st Louis rams and some shady seasons finally in 2010 the team showed some signs of encouragement with their new quarterback Sam Bradford and began to win some games and even finish the season with a winning record.Steven Jackson is an important part of this team and he will remain that way for many years to come.
Steven Jackson is a La's Vegas Nevada native. born in cin city Jackson played for the Eldorado's sun-devils and was named the regional MVP by rushing for 6396 yards and scoring 81 touchdowns. in his college career Steven Jackson finished college with an average of 130 yards per game. that is an amazing stat proving he is an exception among other running backs.braking numerous records and winning lots of the games in his time Steven Jackson always had a winning attitude that stayed with him until this very day.Steven Jackson was drafted by the st Louis rams in the 2004 draft. he got a 7 million dollars contract with a 2.5 million signing bonus.during his first two years as the backup running back Steven Jackson had a solid records and was a sure thing for the starting position.2006 was the break out season for him with 1528 rushing yards and 13 touchdowns.this was also the first year that Jackson was named to his first pro bowl. during the 2007 season Jackson believed he is worth more the the rams are paying him and was not taking part of the training camp as a protest.after the rams offered him a six years 49.3 million dollars contract with a 11.4 million signing bonus making him the highest  paying running back in the NFL.over all Steven Jackson has had 7 years with over 1000 yards rushing making him an absolute power in the running back position. it doesn't seems that he is going to stop even at the age of 29 and the rams wont give him up that easily.
 interesting facts about Steven Jackson: 
1 :Steven Jackson has run to over 1000 yards in every season but his rookie year. this has not been done before making him the most efficient running back in the game.
2 :Steven Jackson is not only a great player on the field. but he takes part of a lot of charity events and gives back to his community.every year he and another 100 players in the national football league wear pink gloves and shoes to show support to the breast cancer foundation.
3: in christmess 2004 the number 7 jersy of Ben Roethlisberger was the best seller.
4 : Steven  has never won a super bowl. despite being an amazing running back he never got a chance to wing a ring. we are all sure that this achievement is in his plans and lets wait and see what happens in the upcoming seasons.
5 : Jackson has won in his rookie year with the st. Louis rams as the rookie of the year award.
Steven Jackson  has a great playing style making him very hard to stop. he is 6.2 ft and 240lb and has a strength of a truck. brining him down is a very tough job.the best thing about him is his attitude. SJ always have a winning attitude about anything he does.
here is a clip with some of Steven Jackson greatest moments :