Joe Flacco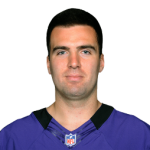 Joseph Vincent Flacco the quarterback for the Baltimore ravens was the eighth rookie quarterback in NFL history to start a playoff game. from that rookie year until now Joe Flacco toke the ravens to the playoffs every year.
Joe Flacco is an Italian American and he grew up in new jersey and was the starting quarterback for the Audubon high school the green wave team.in 2003 he was one of the top 39 prospects quarterbacks in his class that year. at Pittsburgh university Flacco saw little game time as the backup quarterback behind Tyler palko. he only played in three games in 2004 and finished the season with one completed pass for 11 yards. Joe Flacco then decided to transfer to the university of Delaware and he got to finally play at the 2006 season and put up good numbers with almost 3000 yards.in 2007 he toke his team to a 8-3 regular season record and was considered one of the most accurate passers in 2007.after a solid performance at the senior bowl Flacco was one of the top five quarterbacks in 2008 and it was obvious he would be picked in the first round of the 2008 draft.the Baltimore ravens selected Joe Flacco in the 18th overall pick making him the highest drafted player ever to come from the university of Delaware. in the 2008 season as a raven Flacco got the rare chance to open the season as the starting quarterback as the starting one kyle boller had a season ending injury and the backup troy smith was out due illness.against the Cincinnati bangles Flacco completed 15 of 29 passes and had a 38 rushing touchdown and set a raven record for rushing touchdown by a quarterback.from that point on Joe Flacco future was seemed good. he led the team to the playoffs that year and every year since making him a solid quarterback in the national football league.
interesting facts about Joe Flacco :
1 : a Baltimore local restaurant has a sandwich called flack-oh and it is named after Joe Flacco.
2 : in the ravens last 22 regular seasons games. Flacco record is 29 touchdown passes and only five interceptions.
3 : Flacco toke the Baltimore ravens to the playoffs in his first three years as a starting quarterback.
Joe Flacco is a fierce quarterback that fears no one. he is not considered to be a top player like Payton manning or Tom Brady yet but he is getting better and better by the year and if he keeps it up he most definitely will.
the ravens found a good player and they should keep him close. the only thing that missing for them is a Superbowl win that maybe come this year? we will wait and see. he is definitely a type of player that can reach those levels needed to be a super bowl champion and i guess the Baltimore ravens see that in him and they hope that this year or maybe in a few short years he will bring them a super bowl ring. we think so.
here is a high light clip of Joe Flacco :