Tom Brady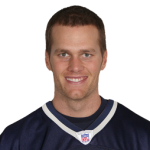 What can you say about Tom Brady.he is the most valuable player in the NFL and maybe in the history of the game.certainly one of the best in the history of the game.tom Brady has won so many awards and so many titles that it will be a boring post to just name them all.lets just say he was won three super bowls and that's about says it all.
 Tom Brady was born near San Fransisco in California by catholic parents and amazing athletes . as a young boy Brady was a huge fan of Joe Montana the 49ers quarterback.until this day Brady says Montana is his role model and he always wanted to grow up and be a successful NFL quarterback like him. tom Brady grew up with American football in his heart and mind and by the time in got to college he was playing for the university of Michigan. in his first two years he was a backup and didn't play much. this was very frustrating to him and he was eager to go on the field and show what he got. finally after long battles Brady got to start in the beginning of season 1998 and he started every game for two seasons and like tom Brady does ever since with great ability he breaks records.he set the Michigan record for most pass attempts and completions in a season and led the team to a 20 -25 winning record for all his starting games.this sets the beginning of tom Brady monsters career at the NFL and even then everybody knew he was going to be great. in the 2000 draft Brady was picked by the new England patriots and that pick is considered by many as the best NFL draft pick of all time. Brady was the fourth string quarterback after starting QA drew bledsoe but it was not so long after he got to the second place and was a runner for  starting in no time. at the second game of the 2001 season tom Brady got his chance when bledsoe got injured from a huge hit by the new york jets line backer mo Lewis.during this game and another one after that Brady had a huge passing rating and was on his way to the starting position. from that point on the story is well known.tom Brady has rained as the patriots starting QB ever since and he set so many records and won so many games that he is considered to be one of the best athletes alive today. just to summarize some of his achievements i will write some down.
seven time pro bowl pick,three super bowl wins,two super bowls MVP , five times AFC champion , sports illustrated sportsmen of the year.two times sporting news sportsman of the year , AP male athlete of the year and so much more.
interesting facts about Tom Brady : 
 1 : Tom Brady's full name is "Thomas Edward Patrick Jr."
2 : Tom and bill bellechic has one of the most winning trends in history with 124 regular season games wins and 16 post all together as well as appearing in five super bowls together.
3 : Tom Brady is married to the super model Gisele and is valued at 100 million dollars today making him one of the most wealthiest athletes alive.
Brady is one of those players that you never say the game is over . he can win a game and turn a score around in seconds and that's why his games are so enjoyable to watch.
 here is a clip with some of tom Brady greatest moments