Brian Urlacher – american football player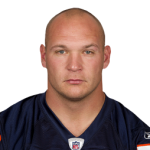 Brian Urlacher was born at 1978 and is known for being one of the top American football players out there. the Chicago bears picked him on the 9 round of the 2000 draft and he is playing for them ever since.he is considered to be one of the best defensive players in the league with nine pro bowls selections and player of the year award. since gaining popularity he has been getting lots of sponsorships for the top companies in the world making him a familiar face out side of the NFL as well.
Urlacher was born in Washington and moved to new Mexico after his parents got separated.he was a fan of sports form a very young age and was very active in some fields like football and basketball. as a young kid urlacher passed allot of his time in the gym working out so he can be Strong and quick enough for playing sports and be good at it. as the years passed by he got familiar with different football positions and got to play as running back , wide receiver , return specialist and a defensive back.we all know what position he was better in and he stuck with it ever since.Urlacher went to new Mexico college and played for the new Mexico lobos team. the first two years of urlacher college career the team had a wining seasons. in the years of urlachers college period he got to exercise the whole defensive style playing and got to be a specialized defensive player becoming one of the lobos most productive players and was already on sight for one of the pro football teams. he played his last game in the 2000 season and during his junior year he led the whole country with number of tackles in a season. The bears picked urlacher in the first round of the 2000 draft and gave him an outstanding contract because he was so impressive in his training and they were in great need of a defensive player.during his first ever pro game urlacher has preformed badly and got him benched for a week. but after a couple of weeks he got his chance again and this time he ripped the field . setting rookie records across the board with 124 tackles and six sacks in his next five starts.after a great first year fans across the nation and newspapers voted him to be the defensive rookie of the year and since then urlacher became one of the most loved players of the NFL.
interesting facts about Brian urlacher the great american football player : 
1 : as a young kid urlacher enjoyed playing table tennis
2 : during the 2001 season urlacher had one of his best games ever  against the Atlanta falcons holding Michael Vick to only 18 rushing yards.
3 : urlacher has two daughters , Pamela and Riley that he loves very very much
Brian urlacher is a massive force in the NFL league and on the Chicago bears team for sure
Here are some highlights of this great American football player :