Cam Newton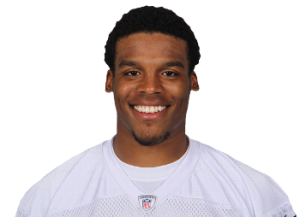 Cam Newton is the first NFL rookie quarterback in history to throw for 400 yards in his first regular season game opener. and the only player in history to have won the Heisman trophy win a national championship in college and get drafted in the first overall pick in the NFL draft in the same year and on top of that winning the rookie of the year award.
Cam Newton went to the university of Florida at first and played for the Florida gators.as a freshman he gained the back up position after Tim tebow and got to play five games where he rushed for 103 yards and scored three touchdowns.Cam Newton didn't have it all easy as in 2008 he was arrested on campus for stealing another student laptop and throwing it out the window to get rid of the evidence. he was sentenced to a diversion program and was suspended that year from playing football.after that incident Cam Newton decided to transfer to Blinn college where he really bloomed.in 2009 he led his team to the national football championship and thrown for 2833 yards with 22 touchdowns and 655 rushing yards. he got a national honor mention and was immediately the hottest player around and every other college wanted him. he eventually transferred again to auburn university. in his time with the auburn team newton played
his best and led them to tremendous winning and gaining himself the one of the top 5 spots to win the Heisman trophy.during all that time cam has had some eligibility concerns as his father Cecil newton was suspected for demanding a large sum of money to ensure his son will sign up for a specific college, these allegations never have been proven and Cam Newton was eligible to play in auburn university but they clouded the impressive performance cam had on the  field. that didn't stop him from winning the Heisman trophy in a landslide victory in a nice ceremony that his father did not attend.Cam Newton was drafted in the first overall pick by the Carolina panthers and was the talk of the nation he did not disappoint and in his first ever game as a pro quarterback he threw for 422 yards had 2 touchdowns and one rushing touchdown.from then til now cam seems to be getting better with time.
interesting facts about Cam Newton :
1 : Cams full name is Cameron Jerrell Newton and he was born in may 11 , 1989.
2 : In the first eight games of the 2011 season, Cam Newton throwing average was 299 yards per game,that is  fifth best in the NFL.
3 : Cam Newton is the younger brother of Cecil Newton. who is currently playing at center position for the Baltimore Ravens.
4 : After being arrested by campus police with allegations of stealing another student from another university laptop while the cops went in to cams room he threw the laptop out the window to get rid of the evidence.
Cam is probably the best rookie quarterback to ever play in the NFL. he has a long and successful career ahead of him and he will break and set many records and should be at the top level like Tom brady and the likes of him . this player is one to watch for and he really picked his team to the top level.
here is a high light clip of Cam Newton :