Clay Matthews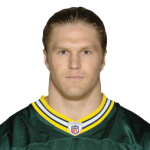 Clay Matthews was a late bloomer.growing up in a family of sports fans and athletes clay always knew he was going to be a football star.but things happen slowly for the young giant.Matthews gain his strength and size only at his senior year and by then it was hard to get notice by scouts.like his uncle and father he wanted to go to the university of south California and he worked hard for it.
Clay Matthews comes from a family of NFL stars.his father played over 19 seasons in the league as a linebacker for the Cleavland browns and the falcons.winning him a 4 time pro bowl selection,Bruce Matthews clay uncle played for 19 seasons as well for the Houston oilers as an offensive lineman. he is considered until this day one of the best offensive lineman that ever play the game.he also holds the record of playing in 14 consecutive pro bowls. his cousin Kevin is a center for the Tennessee titans. his second cousin Jake plays for the Texas A&M as an offensive tackle and mike is an offensive lineman planned to play for Texans as well.we will stop here but it is obvious that clay Matthews come from a family of NFL super stars and he is no different.clay Matthews was featured on the cover of sports illustrated in 2009 as one of three players that had the potential to be first round draft picks. he was drafted by the green bay packers in the first round of the 2009 draft. green bay traded their second and third rounds picks to get the chance to pick clay Matthews shocking every body but eventually that decision proved it self perfectly as clay Matthews is one of the talented players in the league today with a bright future ahead of him.Matthews was selected to the 2009 NFC pro bowl team. he was the first rookie to get in the pro bowl since James lofton back in 1978. there is no doubt this player is going to be  a legend and as the years go by he will just get better.
interesting facts about Clay Matthews:
1 : he is a second generation football player. his father was a NFL legend playing 19 seasons in the league.
2 : Clay Matthews started in 28 games of 31 in his two first seasons and got a record of 141 tackles and 23 and a half sacks. that is amazing for a rookie player.
3 : he is quickly becoming the most recognizable player in the league trailing other great defensive players like troy polamalu and urlacher.
Clay Matthews is a personal favorite of mine because he is an all around defensive player that have the skill to perform almost all the positions and do it well. when he goes on the field and the offense snap the ball you can see him rockets right to the action running down every one in his path. he is also a very intelligent player that makes great moves to fool the offense guarding him making him that much harder to block
Here are some highlights of the great clay Matthews :