Robert Griffin III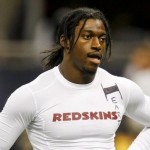 Robert Griffin III is the 2011 heisman trophy winner from the Baylor university. he was drafted in the second pick of the 2012 NFL draft by the washington redskins. he is considered to be a great quarterback that would change the momentum of the team. Robert Griffin III was born in japan. his father and mother where both army sergeants and they were stationed there. after a while they got transferred to Tacoma Washington and little after that moved to new Orleans Louisiana and then finally settled in Texas.Robert Griffin III played as a basketball player football and track at the copperas cove high school. he got to start two seasons as the team starting quarterback and had a good record that includes 25 touchdowns in the air with another 8 touchdowns on the ground.overall he finished his high school era with a total of 2161 yards and 32 touchdowns and passing for 3357 yards and 41 touchdowns.Robert Griffin III was also a really good track runner.he was competing in a 110 meter and 300 meter and was very good and broke some records.we will not get in to his track records as we talk football here.when came college time for Robert Griffin III he was pursued by a lot of top colleges as Stanford , Tennessee , Kansas , Nebraska , Tulsa , Huston , Oregon, Washington and Illinois. at first he committed to play for the Houston university because he wanted to play under coach art Brailles. but after the coach left for the university of baylor Robert Griffin III signed a letter of intent at that school not only because of the coach as for the school had a better track and field program.during college Robert Griffin III broke lots of records and proved to be an amazing player and he won the 2011 heisman trophy planting the way for a very bright future as an NFL quarterback. in the beginning of 2012 Robert Griffin III announced that he would be
entering the 2012 NFL draft.
Here are some interesting facts about Robert Griffin III :
1 : Robert Griffin III had a chance to make it to the 2012 olympics in track, but he decided that football is what he wants to do.
2 : he earned more money in endorsements then any other rookie in NFL history before he even played a single pro game.
3 : Robert Griffin III is a super hero nerd. when he won the heisman trophy in 2011 he wore superman socks under hes suit.
4 : he only played one NFL game ( dated to 17\9\2012 ) and he appeared on sports illustrated cover for three times.
Robert Griffin III is the new cind of quarterbacks. like cam newton or even michael Vick and other young players he is a new breed that is the future of this game. a "superman" like player that can run , pass and do almost anything with the ball.with his leadership and amazing athletic abilities it is safe to say that every team that will have him under her wings will rise above the competition and will play excellent football.
here is a high light clip of Robert Griffin III :