Ben Roethlisberger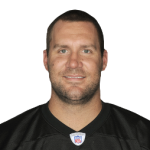 Ben Roethlisberger full name Benjamin Todd "Ben" Roethlisberger was born at march 2.1982 his nickname is big Ben due to his height and strength. off the field Ben Roethlisberger has been involved in several scandals that includes an almost fetal motorcycle accident and a height profile sexual assault allegations.but with all that Ben is one of the best quarterbacks the national football league have.
Born in Lima Ohio Ben Roethlisberger was the captain of the football , baseball and basketball teams in his high school,but oddly enough Ben didn't play the quarterback position because the coaches son got that part. in college Ben got to play the quarterback position and hold that spot for three years.he played for the Miami university and he holds every major passing record in that school . as a freshman Roethlisberger threw over 3100 yards and the next year threw to over 3200 and in his last year threw over 4400 yards these achievements got him the honor of his number 7 jersey being retired in 2007. the only other players to have this honor are john pont and bob hitchens.the next year many commentators thought that Roethlisberger will be drafted in the first spot due to his 2003 fantastic stats. he was invited to the green room that year and was viewed by millions on ESPN receiving a call from steelers head coach bill cowher offering him the quarterback spot that year.since then Ben Roethlisberger and the steelers have won two super bowls and have been favorites for the title every year.Ben  is one of the most accurate passers in NFL history and ranks number 10 at the moment with a passer rating of 92.9. known for playing out side the pocket Roethlisberger grew up admiring john elway and many says that his playing is very much like elway. he wares the number 7 in elway's honor.
interesting facts about Ben Roethlisberger:
1 : in 2010 and 2011 Ben  sister played for the Oklahoma sooners basketball team as she has been doing for the past four years.
2 :Roethlisberger during his off hours is the spokesman of Swiss roots. it is a program that help American citizens that have Swiss legacy to reconnect with their home land.
3 : ben has started his own beef jerky brand and all of the profits go to charity.
4: in christmas 2004 the number 7 jersey of Ben Roethlisberger was the best seller.
5 : Roethlisberger has 51 career victories in his first five years as a starter that is a record setting stats beating Otto graham tom Brady and Dan Marino with 48 victories.
6 : Ben Roethlisberger in his first NFL year lived in a townhouse just 3 minutes away from the steelers practicing facility.
Ben is a powerful player that has amazing skills. they call him big Ben because he is really hard to pull down and he has a great ability to extend plays making it much harder to defend against him. him and coach mike Tomlin makes an explosive duel much like Payton and drew brees or belichick and tom Brady.
here is a clip with some of Ben Roethlisberger greatest moments :