Drew brees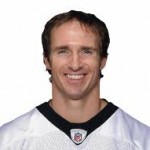 One of the greatest players to ever walk on the field.Drew brees is considered by many the best quarterback in the National football league.holding records and gaining them at a fast speed. we will get in to his records latter on but for now we just want to emphasis that Drew brees is maybe the most unpredictable player to reach stardom status.winning the 2011 super bowl was his greatest moment but with this player you cant really know.
Drew brees was born in Austin Texas to both mother and father lawyers.brees got his name from the famous Dallas cowboys wide receiver drew Pearson like many other great sportsman drew brees had football and sport in general run through the family. although his parents were not athletes many of his family were.already in high school drew brees led his team to a perfect season 16 – 0 record and the state championship.he was setting records in high school and already had a great passing percentage, when he played his team won.when drew brees got to college he only got better as a player and as a student.besides taking his team the boilermakers to the rose bowl for the first time since 1967 brees was also an academic of the year player. he also won the Leonard Wilson award for unselfishness and dedication.in 2008 drew also went to the Stanford graduate school of business for NFL business managment and entrepreneurship in 2008.this goes to show that brees thinks of the future and about the time he will no longer be a football player.then he will surely use his academic achievements to accomplish many great things.we talked about brees record setting seasons and his ability to win at all cost.lets go back to the super bowl year of the new Orleans saints.right in the first game of the 2009 season brees set a career high and franchise tie record of six touchdown passes setting the mode to the entire season.from that end on brees and the saints demolished every team that faced them and made it all the way to the super bowl.the super bowl game was no different and it seems that there was no stopping the saints that year.they have killed the Indianapolis colts 31 to 17 and drew brees won the most valuable player award at that super bowl. this was the first Superbowl win for the new Orleans saints in their entire history making this a sweeter moment for brees who by then became a celeb figure in his town. there is no doubt brees is on of the smartest players in the national football league and we will here about him for many years to come.
 here are some interesting facts about drew brees :
1: in 2009 drew finished the season with a 70.62 completion percentage. the highest in NFL history.
2: drew wears contact lensess when he playes.
3: as a young tennis player . drew once defeated Andy roddick.
Drew brees has great athlethic abilitis . but what makes him a fantastic football player is his mind and smartness.
here are some of drew brees greatest moments :