20 Facts about Larry Fitzgerald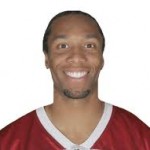 20 facts about Larry Fitzgerald that everyone should know
1: Larry Fitzgerald full name is   "Larry Darnell Fitzgerald, Jr.".
2: Larry Fitzgerald plays the wide receiver position for the Arizona cardinals.
3: Larry was born in august 31, 1983.
4 : The Pittsburgh university is where he played college football.
 5 : The Arizona cardinals is the only team that Larry Fitzgerald has ever played for in the national football league.
6 : has been selected for the pro bowl six time in his career.
7 : on august 20,2011 Fitzgerald signed an eight year contract extension with his team the Arizona cardinals for 120$ million.
8 : During his college time, Larry was considered one if the top wide receivers of the 2003,2004 seasons.
9 : in 2003 he received the Walter camp award.
10 : with only 26 games with his college team Fitzgerald set a record of 34 receiving touchdowns.
 11 : he was the first player in the history of the school to have a back to back 1000 or more yards seasons.
12 : Larry Fitzgerald set a record of at least one touchdown catch in 18 straight games.
13 : Fitzgerald has two nicknames one "sticky fingers" and the other " best hands in the NFL " .
14 : during the NFC championship game Larry Fitzgerald caught three touchdown passes in a single half setting an unbelievable record that was never broken since.
15 : even in the super bowl he caught two touchdown passes only to loose the game to the Pittsburgh steelers 27 to 23.
16 : in 2009 season Fitzgerald set a personal record catching 13 touchdowns in that season.
17 : Fitzgerald father is a sprotswirter for the Minnesota paper and he covered his son Superbowl appearance.
18 : Devon is the name of Larry Fitzgerald son.
19 : in 2003 Fitzgerald mom died of a brain hemorrhage while getting treatments for breast cancer.
20 : Larry Fitzgerald was born in Minneapolis Minnesota.
Larry Fitzgerald maybe one of the best wide receivers in the league. but he is also a great person off the field and does a lot of charity work when he has the time. he is supporting the carol Fitzgerald memorial fund which was named after his mother. in 2004 Larry also founded the first down charity to support children and their family's. given them money to acquire computers and other electronic devices for a better life.
with no Shadow of a doubt Larry Fitzgerald is an outstanding player and person. it seems that every year he is just getting better and better and there is no stoping him.teams that face Arizona cardinals know to guard him with two players or give him special care because he is the type of player that can change a game with a single catch.he still has a long career ahead of him but I'm sure he is already got to a legend status in many eyes.
here is a clip with some of Larry Fitzgerald greatest moments :