Randy Moss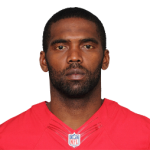 Born on February 13,1977 Randy Moss now plays for the San Francisco 49ers and he was awarded all American honor twice in his career.
Randy Moss was born and raised in Rand west Virginia. in his high school is was a star.mastering football , basketball,baseball and even the track.he played with the DuPont panthers and won them a back to back championships in 1992-1993,he played obviously a wide receiver but also as a defensive back and a return man for kickoff's and punts and at some point even played as the team kicker. in 2009 he was named one of the top 50 greatest high school football players of all time.when it came time for college Randy Moss always wanted to play for the Notre dame university and the college football head coaches of almost every uni wanted him. some went on record saying he was the best high school football player they have ever seen.moss signed a letter of intent to play with Notre dame but after he was involved in a fight with some other kids the college denied his enrollment and moss ended up in Florida state university.although moss was sometimes a trouble maker serving 30 days in jail after a fight got out of hand when he was involved in then later on he tested positive for smoking marijuana and served additional 60 days in jail. all that didn't stop him from braking and setting records at Marshall university when he transferred there so he can play close to home. at that time it was obvious that Randy Moss would be drafted by a NFL team and his future was secured. in the 1998 draft the Minnesota viking picked moss at the first round after many teams have passed him on due to his legal problems.one of the teams that passed on him was the Dallas cowboys. this was very upsetting to moss since he always wanted to play for that team and he was very disappointed with their decision to pass on him. from that point on moss had a habit of beating the cowboys every time he play against them somewhat teaching them a lesson on giving him up.moss played for several teams in the NFL including the Oakland raiders and the New England patriots.in spite great seasons and amazing performance by moss during the years he has never won a Superbowl.
 interesting facts about Randy Moss:
1 : Randy Moss is a very generous man and he contributes to the community by  giving kids from shelters tickets to games and sponsoring kids.
2 : Randy Moss has four children : Sydney , Thaddeus , Montigo and senali with his wife Libby.
3 : Randy Moss has played in the two most high scoring teams in history . the new England patriots and the Minnesota vikings and surly he contributed a lot to them.
4: Randy run the track for Marshall university as a sophomore and won the southern conference track for 55 meters and 200 meters.
Randy Moss is an outstanding player that gives every team he plays in that extra edge to be better then the rest. and if you want to read more great articles about American football players such as wide receiver Larry Fitzgerald please feel free to browse the rest of the site.
here is a clip with some of Randy Moss greatest moments :