Aaron Rodgers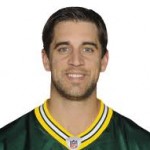 The great story of Aaron Rodgers from an unknown backup quarterback to the super bowl MVP
Aaron Rodgers in his rookie year was a backup quarterback for the historically talented Brett Favre. he got his chance to play in the preseason of 2005 and his start was not great. being sacked twice, his radio in his helmet didn't work and he completed only two passes out of seven attempts, but somehow he got a touchdown pass against the Tennessee titans. in that season Aaron Rodgers didn't play much and beside a couple of minutes here and there he was mostly learning by watching Brett.his first professional regular season pass was  against the new Orleans saints when he completed a pass to full back vonta leach for 0 yards.Rodgers says that one of the most important keys to his success is the fact that during his rookie year he would play the opposing team quarterback in practice for his defense and by that learning the ropes of the game. some of his own team mates say he played so hard during practices that they actually told him to take it down a notch.after the loosing season of the packers the new coach mike McCarthy came along and decided to take Rodgers under his wing and teach him how to be a better quarterback. they practiced for six hours a day many times a week until they saw results. McCarthy says that Aaron Rodgers was maturing and that he has athletic abilities that no one has seen before. perhaps seeing the future of this young player as this turns out to be true. as the next preseason began Rodgers threw for 323 yards and three touchdowns. he didn't play much either in 2006 but was noticeable better. by then it was sure that the minute Brett will retire Rodgers will get the number one spot but this was not to come. in the beginning of 2007 season there were rumors that favre was retiring and that Rodgers will play but those would prove wrong when Brett announced that he will play in the 2007 season and was obviously given the starter position. favre finally retired at the beginning of 2008 season and Rodgers was given the starting position he waited for several years. in his first game as a packers starter Rodgers made 178 yards and two touchdowns leading his team to a victory over the Minnesota vikings that was the first time since 1992 that a different quarterback other then favre started and won for the packers. and i think the rest is history.
 interesting facts about Aaron Rodgers:
1 : Aaron Rodgers was a really good basketball player as a kid and many thought he will go play pro.
2 : Aaron brother jordan is a quarterback for the vanderbilt.
3 : in 2008 Rodgers visited American troops in Alaska and was part of a dog slating race.
4: During his college days Aaron ware a Joe Montana t shirt under his uniform.
Aaron Rodgers is a great player to watch. he is an amazing athlete and a great person and he is considered an assent to his town much like Brett favre was in his days.
here is a clip with some of Aaron Rodgers greatest moments :