American football movies – The longest yard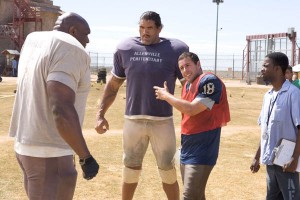 a has been football player turn's into the hero in the most unexpected place.
if you like american football movies. this one is for you.
One of Adam sandler's best movies.its a story about a has been football star who is now a drunk and a failure.
unable to play the game he can only stay home and watch American football movies as his wife gives him a bad attitude why he's not doing anything
with his life.when he finely lose it it steal's her car and drive it under the influence and crash it badly.
this lends him in jail but as he soon finds out this maybe just the wakeup call he needs.
the Warden of the jail is a huge football fan and he immediately wants to convince the retired QB to make a prisoners team to play the guards
in an epic jail house football match. after much disappointment and hard work he make's up a team that could actually win this game.
the warden is not pleased and tries everything in his power to try and stop them from wining and ends up almost killing him!
but like all great American football movies the hero prevails and win's the day
This is a good movie to watch and you will enjoy it
Adam Sandler in one of his best movies in my opinion and the rest of the cast is really good too. i think its one of the wides casts in American
football movies.
I love American football movies. and this one has a special place in my heart . not because its that amazing.
because it gets you somewhere and it has an unusual story that is different form other American football movies
Before you watch the trailer i will end my post by saying that i think everyone will enjoy this movies and not only American football movies fans.
Back to the american football movies page
Here is a trailr of the longest yard :