Gary Kubiak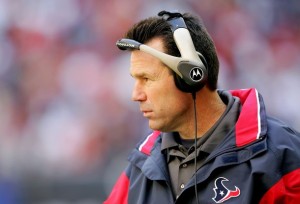 appeared in six super bowls. winning three of them as a coach with the Denver broncos as an assistant coach and the 49ers.Gary Kubiak has been an outstanding player and he is a great football coach. now he coach the Houston Texans in hopes to take them all the way to the title and turn them in to a super bowl champion team for the first ever.
During his high school years Gary Kubiak set a state record passing for 6190 yards as a QB and was great at the track and basketball too. these athletic abilities got him inside the Texas school hall of fame. in college things were not so different for him. Gary attended the Texas A&M university and led his conference in passing yards and touchdowns. he also set the amazing record of scoring six touchdowns in a single game. Gary Kubiak was drafted in 1983 by the Denver broncos.if you follow American football you know that in 1983 the legendary john elway was picked in the number one spot by the broncos so Kubiak got to be his back up on the team.this did not bother him as later on he would say he enjoyed living in the Colorado area and loved the team so trading was not an option for him, although everyone knew he was good enough to start as a QB.the Denver broncos noticed Gary coaching skills immediately and made him part of their sideline discussions almost all the time.he also helped developed young players. rookies that just got to the league.all and all it was clear
that Kubiak was going to be a coach rather then a quarterback.
Gary Kubiak first coaching assignment was being the running back coach at Texas A&M after that he went on and become the San Fransisco 49ers quarterback coach and won his first super bowl with them. Steve young was the QB that year and many say Gary guided him in his best season in his career landing him his second NFL MVP and super bowl MVP throwing an unbelievable six touchdowns in that Superbowl. after that success Gary moved on to other challenges and got accepted as the broncos offensive coordinator working along side with mike shanahan. during his 11 seasons with the broncos he help them win two super bowls and 14 players that went to the pro bowl it was a success in all counts.
coaching the Houston Texans.
Gary Kubiak is just the second head coach for the team after Dom capers left. during his first years he build the Texans from the ground up and by the third year they had a winning season for the first time in the history of the club.from that point the team is a strong contender for the division title and a playoff team for sure. Gary Kubiak is a hell of a coach and it wont surprise anyone to see him win a super bowl title as a head coach in the near future.
interesting facts about Gary Kubiak :
1 : Gary Kubiak is married to his wife Rhonda and have three sons. all of them playing and coaching football on all levels.
2 : Kubiak was all state in football basketball and track before he got in the whole coaching career.
3: Gary Kubiak spent his entire nine seasons football career behind john elway as his back up.
Gary Kubiak is an awesome force in the NFL proving it every time with a killer attack. every team he coached had an amazing offence and he still manages to bring it home every time.
here is a high light clip of Gary Kubiak: