Jerry Rice – the greatest player in NFL history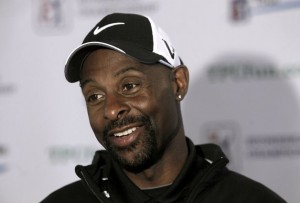 the greatest player in NFL history. that's how they call Jerry Rice. and he earned it . playing for 20 seasons and setting so many  records that seem no one can beat.Jerry Rice is a living legend.
Jerry Rice is considered a living legend in American football history. He is recognized as the best Wide receiver in NFL History possessing plenty of records in NFL. He has set records in many positions. He has been chosen 13 times to the pro Bowl and won three super bowl rings in his 20 seasons as a player. Jerry Rice was born in Stark-ville, Mississippi and shown passion for football while he was at middle school, with his speed he was noticed by his principal and practiced to become a part of the school football team. Rice had gone to Mississippi Valley State University in 1980, played in all tough positions and set notable records, which turned the NFL's attention towards him. Rice's professional football career debuted in 1985 started playing for San Francisco 49ers. Rice impressed everyone by record-breaking, and he was awarded NFC Offensive Rookie of the Year in 1985. Rice secured 3 Super Bowl rings while playing for San Francisco 49ers and he was also named the Most Valuable Player of San Francisco's Super Bowl XXIII against the Cincinnati Bengals. Because of his excellence the school honored him and named the football stadium as Rice-Totten Stadium in 1999. Despite Rice's knees were injured twice in 1997, which threatened his career,he didn't quit and bounced back with full vigor to the field and created great memories for millions of fans. Rice left San Francisco 49ers in 2000 and joined the Oakland Raiders in 2001. He played as a wide receiver throughout the Super Bowl XXIV and Super Bowl XXIX and made significant records which lead to victory. After four years of contribution to the Oakland Raiders he has joined the Seattle Seahawks in 2004. Rice has officially declared his retirement from football in 2006. Rice is still rated as the number one Player of all-time by the NFL. According to latest NFL's career statistics,
glimpses of Rice's records are as follows: total number of receptions: 1,549, Receiving Yards: 22,895,Touchdowns: 208, Points scored: 1,256. Rice is the only Wide receiver in NFL history who played 20 seasons. Rice is one of the greatest players of American Football all time. Rice's discipline, dedication and performance in the field made him the star that he is.
interesting facts about Jerry Rice :
1 : Jerry Rice was selected to the pro ball 12 times in his amazing 20 seasons career.
2 : rice loves to play golf. he would wake up early and practice his golf swing before heading to the 49ers practice, rice has been playing golf for over 20 years now.
3 : Jerry Rice son plays wide receiver for the UCLA bruins.
4 : Jerry Rice has lead the league six times in receiving yards.
5 : Jerry Lee Rice is his full name.
so when talking about NFL you just think about Jerry Rice. he is the best there was. the best there is and the best that will ever be in some minds.
here is a high light clip of Jerry Rice: