Tim Tebow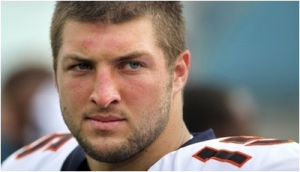 Timothy Richard Tebow also known as Tim Tebow exploded on to the NFL league with his rookie performance in the 2011 season with the denver broncos. from that point on he was an instant hit and was recognizable anywhere and by any team. with no doubt this young man has a bright future in this league.

Tim Tebow started playing professional football for the Denver Broncos in 2010.This muscular 250 pounds and six feet tall energetic boy was very-built to say the least and has the power to throw from any position.Tim first professional game in the National Football League (NFL) was against Oakland Raiders in December 2010.In this game he set a record for the longest touchdown run for a quarterback which is the third highest record in NFL's history.for
his performance against the Houston Texans Tim received the Pepsi NFL Rookie of the Week for his wonderful game with 308 passing yards and one touchdown which lead to victory in the second match in his professional career. According to NFL's top 100 players in 2012 he holds the 95th position. After being traded for the New York Jets in 2012,Tim increased his records as per the NFL 2012 career statistics which accumulates 2392 passing yards, 75.2 passer rating, 925 rushing yards.Tim is a smart and disciplined player who was born on 1987 in Makati City, Philippines and studied at Nease High School, Ponte Vedra Beach, Florida. During School days he was the top quarterback in his school and was named as Most Valuable Player as outcome of his efficiency in rushing touch downs, throwing and running. in college Tim obtained a degree from the University of Florida in 2009.He was selected as a team captain in 2008, because of his eminent performance to win Heisman Trophy in 2007 and BCS championship in 2008. after college Tim was drafted by the NFL in 2010.
Tim signed a 5 year contract with the Denver Broncos worth 11.25 million dollars. Tim kneels down before entering the field and take a moment to pray and that show he is a strong christian man. tim also helps the comuinity. he has established the Tim Tebow Foundation in 2010. Tim raised funds along with CURE to build a hospital at his birth place in Philippines named as Tebow CURE Hospital.
interesting facts about Tim Tebow :
1 : in college Tim used to write biblical verses on his eye black and every note he wrote got millions of searches on google.
2 : Tim's praying before each game created the phrase " tebowing " which means kneeling down on one knee and resting your head on
your elbow in prayer.
3 : Tim Tebow was actually born overseas and not in America. he was born to American parents in the philippines who served as christian
baptist at the time.
4 : tebow and all of his brothers were home schooled so they could get a christian beliefs that their mother wanted.
this gave them lots of time to engage in other activities such as sports.
5 : his first win as a pro starter was a win against the Houston Texans after trailing 17 – 0 at halftime.
so it doesn't matter if its on the field or off it. Tim Tebow is an interesting character and and good player and probably will be
so for many years.
here is a high light clip of Tim Tebow  :