Steve Young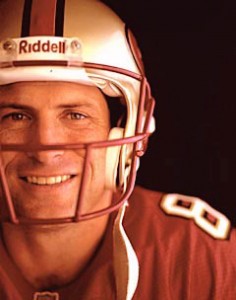 to many the name Steve young stands for one of the great quarterbacks that ever played the game.for others mostly 49ers fans he is just
the back up for Montana. but no one can deny his amazing abilities and Steve young career in the NFL was one for the books.lets recap some of his highlights and life story as a NFL quarterback.
Steve Young is a former Professional American football player born in Salt Lake City Utah in 1961. He was a well-known quarterback in the NFL during the 1980 – 1990. in college He was a multi-sport athlete playing for football, basketball and baseball teams. Steve decided to join at Brigham Young University where he graduated with a law degree in 1994. Steve possessed great athletics abilities so he had been positioned in defensive back position but after several tries and with the fact that Steve as A left hand thrower Steve's got to be a quarterback setting career records, scoring high in rushing yards and touchdowns on the grounds. He was first named as All-American and received Davey O'Brien National Quarterback Award.
Proffesional career
Steve's professional career started with an amazing contract of a 10 year deal worth 40 million dollars with the Los Angels Express in 1984 in the United States Football League (USFL). Later USFL has closed down its operations so Steve moved to the NFL and joined the Tampa Bay Buccaneers in 1985.after a while and noticing this doesn't work Steve was traded to San Francisco 49ers in 1987. Steve spent 13 years playing for the San Francisco 49ers and he was one of the greatest quarterback in NFL history. During Super Bowl XXIX in 1995 his extraordinary contribution to 49ers resulted in a crucial victory over the San Diego Chargers. He was recognized  twice as Most Valuable Player (MVP) by the NFL. In his long journey with the 49ers Steve just played 4 seasons (1991, 1992, 1993, and 1994 Super Bowl season) and he totally scored 29,907 passed yards, 221 touchdowns, 86 interceptions and had a passer rating of 101.4. Steve recorded an overall rating of 96.8 passers which is the highest in the history of the retired players of NFL. Even after his retirement in 1999, Steve still holds the second position on the over all rating.As of NFL's career statistics in 1999 Steve's records are as follows: 33,124 Passing yards, 722 Rushing Attempts, 4238 Rushing Yard and 43 Rushing Touchdowns. Recently Steve appeared in television as a commentator in the NFL 2010 draft.Steve married a model named Barbara in 2000 and gave birth to two sons and two daughters.
interesting facts about Steve Young :
1 : Steve Young is the great-great-great-grandson of Brigham young who was the second president of the church of Jesus Christ that Brigham college is named after.
2 : Steve Young is the star and voice-over for the IOS game " Steve Young football".
3: Steve Young holds the record of most rushing touchdowns by a QB in the postseason with 8 touchdowns.
so as the article says. you cant deny Steve young abilities as one of the best quarterbacks of all time. he is up there with Montana and john elway for sure.
here is a high light clip of Steve Young: