Jeremy Shockey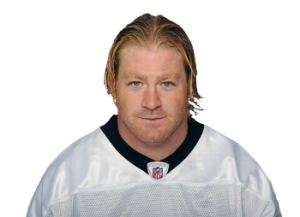 Jeremy Shockey is not your average football player. with a rock star attitude and the looks to prove it he seems more likely to sing on the field then play football. but that just his way of playing the game. Jeremy Shockey is an outstanding player that have won the super bowl and was in the pro bowl.when he enters the field every one notice him and they know he is a dangerous player. Jeremy Shockey is a professional American Football player aged 32 years from Ada, Oklahoma, USA. Jeremy graduated from Ada High School in Ada, Oklahoma. Because of his high kinetics, he played mostly at the Wide Receiver (WR) position and he received Varsity Letter for his excellence. Later Jeremy went to University of Miami, played for Miami Hurricanes and help defeat top ranked teams that raised him as an integral member of the National Championship Miami Team and got the status of All-American and National Champion. Jeremy's big dream had always been to be drafted into the NFL (National Football League). With his fantastic performances and marked solid improvements he had been drafted into the NFL in 2002. Jeremy debuted in 2002 for New York Giants. He signed a five year contract with the New York Giants on 2005 and has been the highly paid player for the year 2011 with $26.38 million. Jeremy outstandingly performed with 66 catches and for 623 yards for the season 2006 which earned him the Pro Bowl. Jeremy was awarded Diet Pepsi NFL Rookie of the Year in 2002. In 2008 Jeremy joined the New Orleans Saints. He continued his brilliant performance leading New Orleans Saints to win the first Super Bowl (2010) which is the highest level of American football championship. New Orleans defeated the Indianapolis Colts to win the Super Bowl,Jeremy Shockey was awarded the championship title. In 2011 Jeremy signed with the Carolina Panthers. His importance had grown such that later he was made an unrestricted free agent among the 11 Panthers. According to NFL statistics, Jeremy's records are as follows: Receptions: 547, Receiving yards: 6,143, Touchdowns: 37, Experience: 10 seasons. It was recently tweeted, "The Head coach suggests Jeremy to retire". Jeremy posted on his tweeter account, "Why is everyone talking about retirement? Football season is in Sep right". This terrific 6 feet and 5 inches tall player is tough, combined with speed and catching ability. With biceps tattooed with Stars and Strips of the US flag which he tell his devotion to his country. His favorite line in the  field is "Catch me if you can".
interesting facts about Jeremy Shockey :
1 : Jeremy Shockey was the first player ever to win the Pepsi diet NFL rookie of the year award in 2002. 2 : Jeremy Shockey is an all American in every way you look at it. tattooing the american flag on his arm. 3 : on the field Jeremy Shockey like to lough and overall has a really cool attitude when catching the ball he likes to say " catch me if you can". so if he wsnt playing football he would probably be a rock star. but he always dreamed of being an NFL football star and he earned it fair and square. he is a dominant player with two super bowl rings to show for.
here is a high light clip of Jeremy Shockey :