Gridiron Gang – American football film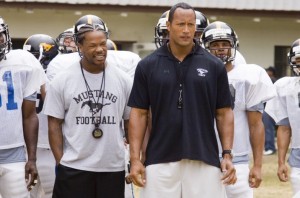 in 2006 Columbia pictures released the American football film gridiron gang.the cast are in the lead Dwayne Johnson , xzibit , l Scott Caldwell and Kevin Dunn. it is somewhat based on the true story of the kilpatrick mustangs during their 1990 season but alot of the facts changed in this movie.Gang life in Los Angeles is nothing new. thousands of kids life's are destroyed by the gang's and most of them ends up in jail or dead.one man who works at a detention center called Sean porter tries to help these young kids by putting them back together and teaching them how to be a good person and not fall back in to the crime life.this task is proven to be very difficult as most of the kids are using drugs and are so caught up in the life that they almost don't know anything else other then it.Sean then thinks of an idea that he believes will help him in his mission. he decides to put together a  football team from the kids and by that teaching them responsibility, rules and maybe getting them in shape a little bit.so he picks out a few kids and puts together a team and start giving them practices and teaching them how the game is played.at  first there are a lot of problems as some of the kids are in rival gangs and cant stop fighting each other,there first two games are terrible and they get crushed by the other teams, but after two games they start getting the hang of things and start winning some games. by working together and practicing hard they see they can do things right and start to feel like winners.they make it all the way to the championship that season only to loose at the game, but the accomplished mission of porter and the whole team will never be forgotten.from dead bit kids and criminals they became football players,from that year on porter's team method is officially part of the program and every year new kids are joining.
intresting facts about this American football film :
1 : nearly all the kids stayed out of trouble after playing for the mustangs. proving this system works.
2 : the football team idea is not really what happened. back in 1986 the kilpatrick started a basketball team and only a few years later they decided to add a football team that porter was part of.
3 : the film was mostly filmed in the actual detention center in Los Angeles and the field you see the team practices is only 60 yards long,
4 : most of the speeches dwayne has in the movie for the kids are acctual speeches that the real porter gave to the real kids
this American football film is great because it is based on a true story and the cast is really good. when you have a great story you cant go wrong
if you watch this movie you wont regret it. also try watching the real documentary it is also a great film
here is a trailr for this great American football film :