football movies – the express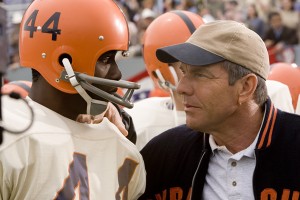 The express : the Ernie Davis story or in short " The express " is great movie about a great football player. often football movies tells a story about  one player.the life of Ernie Davis comes to life in this film about racism and athletics. Ernie Davis was the first African American football player to win the Heisman trophy playing for his university Syracuse.the movie was considered a bust in comparison to other football movies for only generating around ten million dollars in sales but it did manage to get a lot of  positive reviews.
Ernie Davis grow up in the late 1940 in pensenvaliya right in the time racism was at a peak. if you follow football movies well you know there are a lot of them on this time in history .his grandmother was the one who actually raised him and educated him while his mother was not really a mom type and could not "deal" .after many years the mom suddenly returns with a new husband and declares that she can now provide for her son and moves them to her home town of Elmira near new york.this is a crucial moment for young Davis as he decides to join a small fry football team as a running back.several years past and Davis is now in college age. while still playing football he is interested in getting a scholarship from one of the schools.fortunately for him the head coach of the Syracuse university Ben schwartzwalder is seeking for a new running back since his star player graduated and he is in short. after watching Davis play he decides that he got what it takes to become a Syracuse player and he goes to meet with him and his family to try to convince him to sign with him.Ernie which is in great need of this  deal takes it with both arms in spite other schools interest in him.at the 1959 season Davis plays and play well. leading his team to several wins and all the way to the cotton ball.during this game he suffered an injury to his leg due a result of biased officiating.this doesn't stops him of  scoring another touchdown that eventually wins the game for his team and their first championship. his efforts throughout the season grants him  the Heisman trophy and he is in the books for the first African American player to receive this award.
this movie has been released again several years later with an extended version and deleted scenes also in blu ray and gain some new popularity. i love this movie because i love football movies that are based on actually events and that you can relate with the main character.
football movies are always fun. but this one is highly recommended.
Back to the football movies list
Here is a trailer of this movie :